Alexander
Imagine glacier plates floating above the table's surface, just as the tip of a glacier reveals only a fraction of its actual size. Alexander comes adorned with a cascade of blue celadon glaze or white gold lustre.
Supernatural and ephemeral bodies of ice
"I love that what we see of these forms reveal only a fraction of their scale. In my mind's eye, I see glacier plates floating on a table's surface with succulent morsels of sashimi and the guests engaging in conversation as to its function as dinnerware."
Made to order
We craft small batch ceramics made to order at our studio which allows us to deliver the finest hand finished pieces. For this reason, you will be notified when the item you are purchasing is not on our ready to ship shelves, please allow 3-4 weeks for an item to be lovingly made before it can be shipped.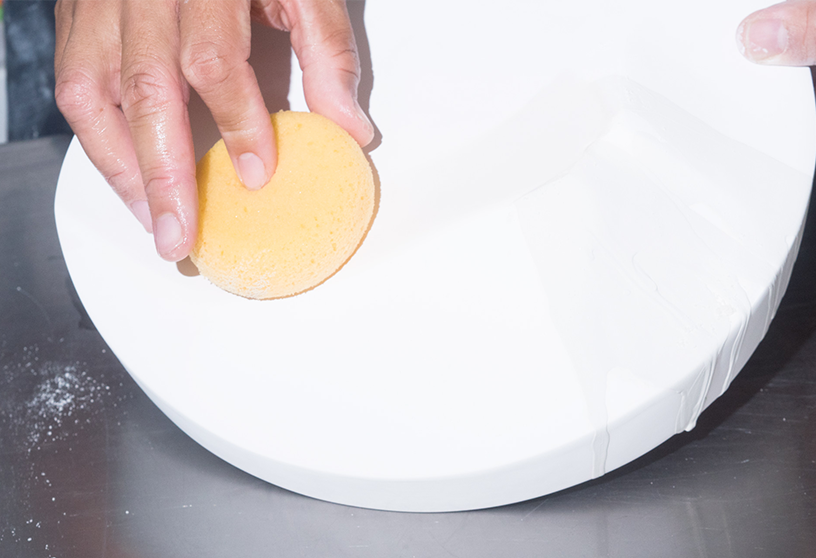 Final Touches Prior to Glaze Firing
Taking a wet sponge to eliminate excess glaze ensures the porcelain body is an even matte surface. Diane can edit the glaze lines to suit the form until she feels satisfied that the glaze lines compliment Alexander's form.
Creating a Cascade of Glaze
A detail of celadon glaze being carefully poured onto the surface of the Alexander plate. The glaze falls through the contours of the plate, creating a natural cascade.
Product details
Designed for Dinner by Design Vancouver 2016 in collaboration with the Vancouver Design Bureau.
Unglazed, matte surface, some foods may stain the surface of this plate when used for food service.
Can be hung on a wall and vertical surfaces.
Dimensions: length (25cm) . width (25cm) . height (7.5cm)