Gem
Faceted Gem vases are petite to bring out the precious form of the vessel. Each Gem is slip-cast in carefully selected, coloured porcelain bodies and lovingly finished by hand.
Its all about the angle
The interior is glazed to hold water while the exterior surface is matte. Made of porcelain with a unique stain, Gem's gold lustre makes sure she always shines bright.
Made to order
We craft small batch ceramics made to order at our studio which allows us to deliver the finest hand finished pieces. For this reason, you will be notified when the item you are purchasing is not on our ready to ship shelves, please allow 3-4 weeks for an item to be lovingly made before it can be shipped.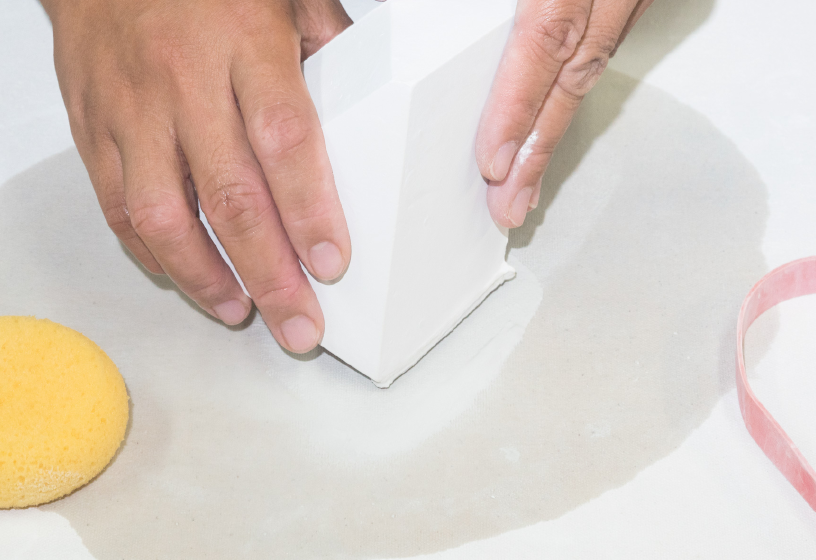 Creating an Even Rim
Using canvas-wrapped boards as a sanding tool to create an even surface while the Gem vases are at their fragile greenware stage.
Air Drying at the Greenware stage is a Slow process
Gems are drying at the greenware stage and gently handled during the trimming stages.
Product details
Gems are glazed on the inside to create a vessel that can hold water.
The exterior is matte, unglazed, and hand-sanded for a smooth hand-feel.
Each Gem has a signature drip created in the glazing process - no two drips are alike.
Dimensions - small: length (6cm) . width (7.5cm) . height (6.5cm)
Dimensions - medium: length (13.5cm) . width (6cm) . height (9cm)